Love Hacked By Penny Reid, Review
Book: Love Hacked
Series: Knitting in the City #3
Author: Penny Reid
Genre: Contemporary Romance, Humor
Tour Organized by: Indie Sage, LLC
SYNOPSIS:
There are three things you need to know about Sandra Fielding: 1) She makes all her first dates cry, 2) She hasn't been kissed in over two years, and 3) She knows how to knit.
Sandra has difficulty removing her psychotherapist hat. Of her last 30 dates, 29 have ended the same way: the man sobbing uncontrollably. After one such disaster, Sandra--near desperation and maybe a little tipsy--gives in to a seemingly harmless encounter with her hot waiter, Alex. Argumentative, secretive, and hostile Alex may be the opposite of everything Sandra knows is right for her. But now, the girl who has spent all her life helping others change for the better, must find a way to cope with falling for someone who refuses to change at all.
What I thought
This is the 3rd book in the
Knitting in the City
series, but can be read as a stand alone book, although I would highly recommend you run off and read the first two as well. If you like to laugh your ass off, and are looking for a genuine funny book this these are just the ticket.
Ok lest just get it out of the way I am not a big one for using gifs in my reviews but when I hear about Alex this was my first reaction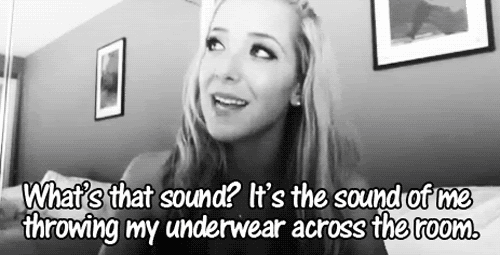 That boy was fine!! Omg it's like Penny looked in my head and ripped out my dream boat guy, hubba hubba but I digress.
I just love this, I loved laughing. Sandra was funny, smart and truly awesome. I honestly Love Penny Reid's heroines, all of them so far have been smart, strong, funny, independent and not needing men to complete them. I hate books where once the h meets the H they lose themselves. They don't cry every second page and when shit gets real so do they.
The writing is solid, each character has their own voice and they are all very consistent, with so many people over the course of 3 books it would become very easy for all the surrounding cast to blend into one another but that just doesn't happen. Each person is individual and funny in their own right.
I am so invested in this series, I am now wondering how I can become Penny's best friend.
About the Author:
SEX! It all started with sex, between my parents. Personally I don't like thinking about it, but whatever works for you is a-ok with me. No judgment. The sex happened in California and much of my life also occurred in that state until I moved from the land of nuts (almonds), wine, silicon… boobs, and heavy traffic to the southeast US. Like most writers I like to write, but let's get back to sex. Eventually I married and gave birth to 2 small people-children (boy-6, girl-4 as of this writing).
By day I'm a biomedical researcher with focus on rare diseases. By night I'm a knitter, sewer, lino block carver, fabric printer, soap maker, and general crafter. By the wee hours of the morning or when I'm intoxicated I love to listen to the voices in my head and let them tell me stories. I hope you enjoy their stories.
CONTACT
Website: http://reidromance.blogspot.com/
Facebook: http://www.facebook.com/PennyReidWriter
Twitter: https://twitter.com/ReidRomance
Goodreads: http://www.goodreads.com/ReidRomance
Pinterest: http://pinterest.com/reidromance/boards/
Tour wide giveaway:
Prizes:
1 MASSIVE Giveaway winner (open internationally) will get signed print copies of the following:
Tattooed Dots by Kimberly Knight
Geoducks are for Lovers by Daisy Prescott
Archer's Voice by Mia Sheridan
Chocolate Rose by Laura Florand
Better, Him, Her by Carey Heywood
Consequences, Truth, Convicted, Behind His Eyes - Consequences by Aleatha Romig
Sweet Thing by Renee Carlino
Behind His Lens by RS Grey
Mine to Lose, Being There by TK Rapp
Black Box by Cassia Leo
Axel by Harper Sloan
The Proposal, The Pairing by Katie Ashley
Torn by KA Robinson
Seduction and Snacks by Tara Sivec
Knitting in the City Series by Penny Reid
Tote signed by these authors + more.
RAfflecopter code embed code FOR TOUR WIDE GIVEAWAY:
a Rafflecopter giveaway
>